Centre Congregational Church
United Church of Christ
We Welcome Everyone: An "Open & Affirming" Church
Handicap Accessible
Phone: (781) 334-3050; Fax: (781) 334-6463; Email: Office@Centre-Church.org
5 Summer Street, Lynnfield, Massachusetts 01940
---
Weddings at Centre Congregational Church
Your wedding is a celebration of the love that has brought you and your spouse-to-be together. We look forward to helping you make your wedding one of the most wonderfully memorable days of your life! We officiate weddings for members and non-members of Centre Church.

Centre Congregational Church is a beautiful, peaceful, historic church located directly across from Lynnfield Common. We have two lovely worship spaces with pianos and an organ, air conditioning, ample parking, and an elevator.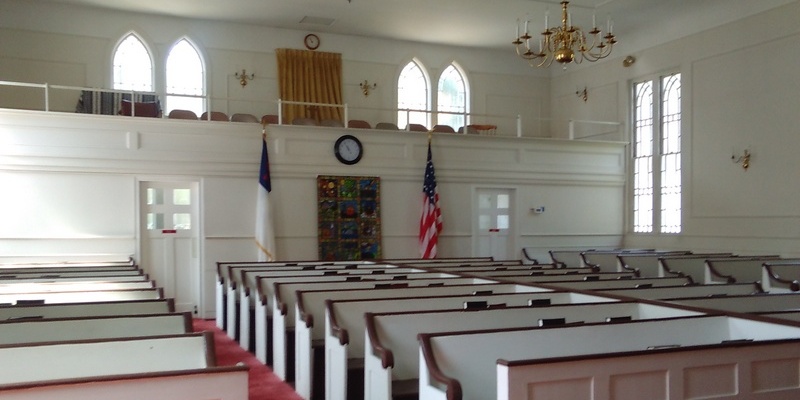 We can comfortably accommodate 250 guests in our sanctuary and 100 guests in our chapel. Both worship spaces can offer additional seating. We are handicap accessible and offer assisted listening devices for the hearing impaired.

Centre Church is an "Open and Affirming" member of the United Church of Christ. We welcome and will conduct wedding ceremonies for all people including those who identify as heterosexual, gay, lesbian, bisexual and transgender.

Weddings include two preliminary meetings which may include premarital counseling, if requested, as well as a wedding rehearsal and the wedding ceremony.

The pastor will work with you to design a ceremony that best suits your style. We can recommend a musician or make accommodations to allow your friend or family member to play and/or sing. Answers to some of our most frequently asked questions can be found below.

Couples usually meet with the minister months in advance of the wedding date to begin planning. A deposit of $150 is required to book the date and the remainder of the fees are payable at the wedding rehearsal.

Please contact the church office at 781-334-3050 to inquire about availability for your wedding date and to set up your initial meeting with the pastor.

Non-member fees
Centre Church: $250
Minister: $450
Musician: Organist or Pianist: $250
Custodian: $125

Member fees
Centre Church: No charge
Minister: $250
Musician: Organist or Pianist: $250
Custodian: $125

Holidays and holiday weekends are subject to a surcharge.

Wedding FAQ
Is the pastor available to officiate weddings at places other than the church? Yes. Please contact the pastor through our church office: Office@Centre-Church.org.

Will children be allowed to participate in the ceremony? Generally, children are welcome to participate. Please talk to the pastor about the child you would like to have participate and, together, you can work out the most appropriate roles for the youth.

Does Centre Church allow couples to bring their own officiant? Centre Church's pastor must sign the marriage license. Couples are welcome to talk with the pastor about a co-officiant and professional courtesy dictates that the invitation come from the pastor, rather than the couple.

How early is the church open on the day of the wedding? The church will be open one hour prior to the ceremony and you are welcome to bring in flowers and/or take photos at that time.

May guests take photos or video during the ceremony? In order to minimize distractions, guests are welcome to remain in their seats and take pictures or video with phones or cameras provided there is no flash and phones are on silent mode.

Can we take pictures in the church after the ceremony? We encourage you to take your church photos before or during the ceremony. Many couples will take pictures during the rehearsal. It is expected that the wedding party and guests will depart within 30 minutes following the ceremony.

May we use bubbles? Bubbles are allowed outside of the building.
---